Supra Vaider Black Snake White Skate Shoe
NOW ON SALE $99.99
CLICK HERE TO BUY NOW
The Supra Vaider skate shoes is a stylishly designed high top upper on a vulcanized sole that supplies excellent traction and board feel. Extra collar padding, mesh lining, and a SUPRAFOAM footbed with mesh sock liner all provide superior comfort.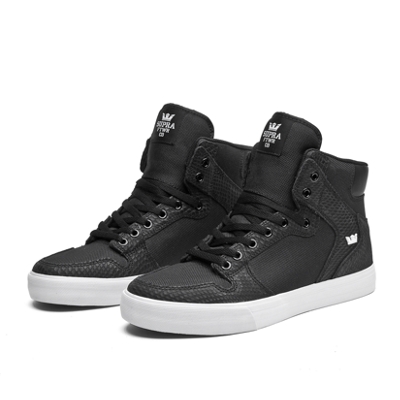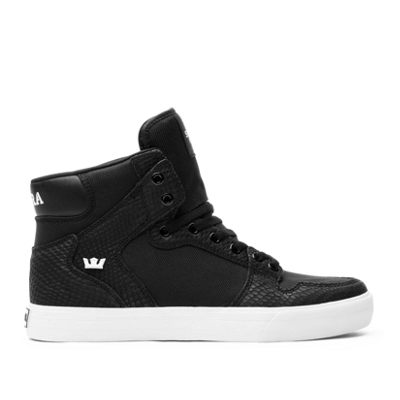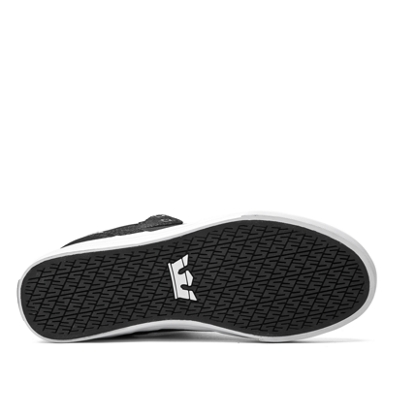 Style Number: S28220
Black ballistic nylon
Black snakeskin embossed leather
Black leather
White accents
Padded black mesh lining
Black vulcanized sole
White foxing with white pinstripes
TECHNOLOGY
Water Resistant.
Easier to clean than regular suede.
Useful in climates where rain, dirt or snow can compromise the life of your SUPRA product.
Genuine suede base materials mean better breathability.
Made using genuine suede.
SUPRATUF® is tested using the Taber Abrasion Meter. The TABER measures abrasion in cycles. Regular suede goes through about 25 to 40 cycles before abrading. The average SUPRATUF® will go through more than 200 cycles before abrading.
Ultra lightweight.
Breathable.
Flexible.
Eco friendly.
Does not require harmful adhesives.
Will not lose elasticity under compression.
When molded into midsole, provides unmatched cushioning and comfort.